4 Things to Know about Shopping for Earrings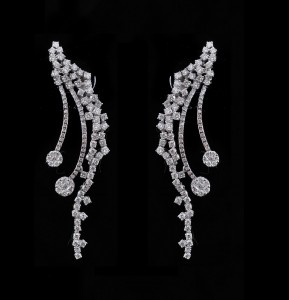 If you're buying earrings for someone you love, here are some handy shopping suggestions to help you out:
Know what they like
Chances are, you've already seen some of the earrings your loved one likes to wear. Studs are small, easy to wear and classy to go with everyday work clothes or an evening dress. Hoops add a bold touch so if your partner likes flashy, this would make for a perfect choice. Looking for something elegant and feminine? Drop earrings are ideal. Choose from pearls, diamonds and gemstones, depending on how much sparkle works for you.
Match it
If you're shopping around for earrings to go with the engagement ring you'll be popping the question with, then make sure the two pieces make for a good pair. It would be better to buy a set to make sure the design and style are a perfect match.
Go with custom pieces
If you have a design, cut or style in mind, one you haven't seen anywhere else, then look for jewelers that offer custom-made pieces like The Carat Room. Take a look at their custom pieces or reach out to them so you could get started on talking about the design, style, cut and stone you want, among other things.
Know your rock
Different stones come with different buying tips. Diamond earrings, though, are one of the most popular. If that's what you have in mind, then make sure you brush up on your knowledge of the 4 Cs: color, cut, clarity and carat. That way, you'll have an idea what kind of earrings would do and which ones simply won't.
So don't go into this blind. Keep these shopping suggestions in mind to help you find the perfect earrings for your loved one. Whether it's engagement jewelry, an anniversary gift or a 'just because' present, your special is sure to love them.